Basara Milano - San Marco, Venice
Restaurant and patisserie
BASARA OPENS IN THE CENTRE OF VENICE
After the success of the two restaurants in Milan, Basara opens in the heart of Venice, in Sestiere San Marco.
The term Basara indicated who did not conform to the customs of the time but he searched for a personal lifestyle. Our restaurant is based on this philosophy.
The new Basara incorporates many of the features that led to the success of the two restaurants in Milan: the combination of Japanese restaurant and patisserie, a space that changes from daytime to evening, and of course, the dishes that have delighted the palates of all our customers during the years. In addition we have opened a beautiful terrace which is perfect for a romantic dinner or an event and all of this only a few steps away from Piazza San Marco.
For lunch offers a menu of light and appetising dishes, prepared at the moment, for a quick but quality lunch break.
In the afternoon Basara pampers you with a selection of pastries and desserts prepared daily by our pastry chefs, accompanied by a wide selection of coffee and aromatic teas for a delicious afternoon tea break.
During happy hour the space changes completely ... sliding panels and mobile furnishings radically alter the appearance, so it looks like another restaurant.
The shift from happy hour to dinner is almost natural ... Basara is a stylish sushi restaurant where you can enjoy all the delights of Japanese cuisine creatively reconsidered by Hiro, right before your eyes.
HIRO'S MASTERPIECES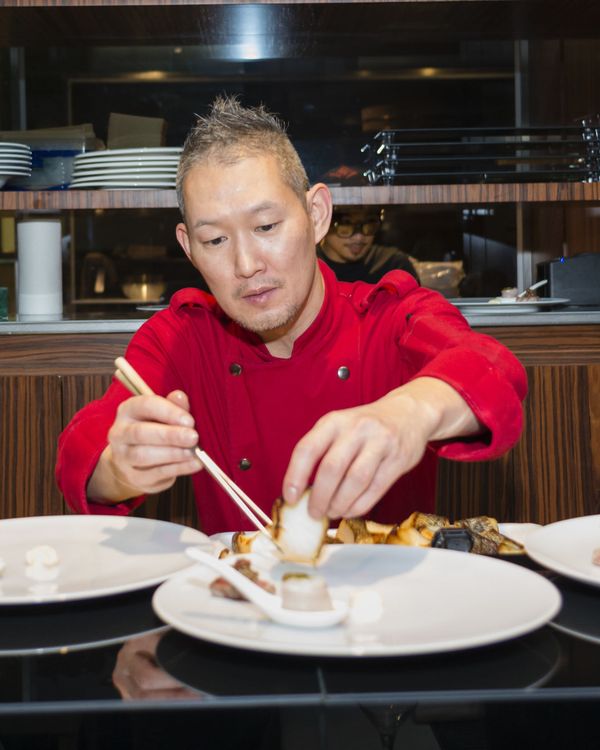 The owners are two very different people, united by the enthusiasm and the can-do attitude. Danilo, logistics professional, and Hiro, Japanese chef with an enviable curriculum, full of collaborations with the best restaurants in Milan. Andrea Langhi, architect, in recent years has designed some of the most famous bars and restaurants in Milan, from the 'G Lounge' to the 'Deseo', from 'Tocqueville' to 'Luminal'. For the realisation of Basara, the first transformable restaurant in Milan, the architect was inspired by Danilo's ideas, interpreting his requests and immediately entering in harmony... a solid foundation for a good friends and colleagues relationship.
Basara Milano - San Marco, Venice
Sestiere San Marco, 1089 - 30124 Venice
+39 041 5225955

Tuesday-Sunday 12pm-3:30pm and 6:30pm-11:30pm
Monday closed